Serving size: 6-8
Prep Time: 10 minutes
Cook Time: 20
FREE OF: gluten, dairy, soy (option), coconut, banana, seeds, lime, fish, cauliflower, tomato
Ingredients:
2lbs of diced chicken

1 box rotini pasta (we use Barilla gluten free)

1 medium onion sliced

1 bell pepper sliced

4oz can mild green chilis

1 can corn drained

8oz Dairy Free Cheddar (we use Follow Your Heart Cheddar)

1/2 cup dairy free sour cream

1 cup cashew milk

1 tsp. black pepper

1tsp. garlic powder

1 tsp. cumin

1 tsp paprika

1/4 tsp. cayenne pepper

1 tsp dried oregano

2 tsp. salt

2 Tbsp. olive oil
Instructions:
Cook pasta

In a large skillet add olive oil and turn on high heat

Add onion, bell pepper, and all the spices to the pan

Once onions start to sweat add chicken and green chilis

When chicken is cooked through add cashew milk and bring to boil

Add cheese

Once cheese is melted add sour cream

Add corn and toss with pasta

If you want it a little thicker, let it sit for a few minutes

Enjoy!
Products
Here's the pasta we use (to be honest you could probably find this cheaper at your local store):
Story behind the recipe:
Allergy Girl: It's like a taco soup only better! It's so flipping good!
Chef: It's not a soup...
Allergy Girl:... It seems like a soup... It's soupy...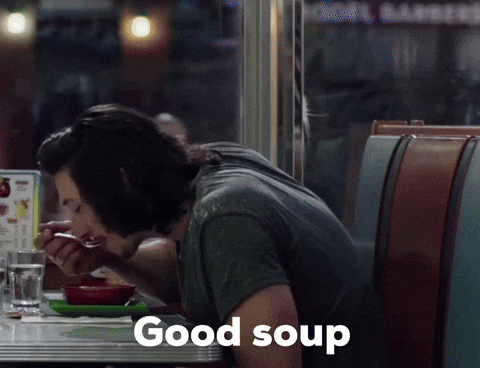 Chef: All the sauce will thicken up and soak into the pasta. It's not a soup...
Allergy Girl: Oh okay. So... what do you call it then?
Chef: Creamy Mexican pasta.
Allergy Girl: You got it. Whatever it is, I want more and you definitely have to make this again!
Chef: Yeah, it's not soup, love.
This creamy Mexican pasta is without a doubt, comfort food. Full of Mexican flavor, but has the creaminess and richness of an American mac and cheese (in the best way). It's easy to make and it's very easy to make a lot of it for a large group of people: at a dinner party, family get together, a large family, or if you just wanna be set for leftovers for the next couple days. Goes great with a glass of wine if you're up for a drink.
Let us know how you like it in the comments or leave us a review! We are available on social media as well if you'd prefer to reach out there. We would love to hear your opinion!